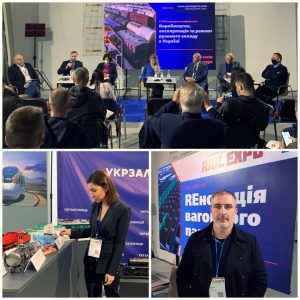 The Forum took place on October 20-22 in Kiev, the main topics were focused on the railway industry – railway transport, infrastructure, production of equipment and components for the railway market.
The exhibition presented new models of railcars of the top-building companies (including grain carriers and boxcars with increased cubic capacity, as well as fitting platforms). As part of the event, a round table was organized, during which the crucial problems of the rail transport market were raised, such as: the development of intermodal and container transport, integration with the EU transport model, pilot projects on private traction etc.
For BGS Rail, in turn, the key issue was the renovation of the fleet. It should be noted that the company stands for a progressive and predicted renewal of the fleet with Ukrainian-produced wagons, as well as strengthening control over the quality of depot and major repairs. The representatives of the company announced their proposals on this issue during a round table discussion.
Within the framework of the event, a meeting was also held with a number of representatives of state authorities, as well as the management of the Karpaty factory, as a result of which the parties agreed on future mutual cooperation.